Need some help? Having questions about our site, our company, returns, or anything else? Your answers could be here. Please read the following page or click a link below for a specific issue. If you still have questions, please don't hesitate to contact us by clicking this link!


SECURITY and PRIVACY

All of our transactions are 100% secure and safe. We use and accredited credit card processing company called Beanstream for all our credit card purchases and as an alternative, you can also choose Paypal for payment. Security for sensitive credit card information is a top priority. NO credit card data is stored on the The Jockstrap Company website itself and if you order via phone, your credit card details are shredded immediately after the order is placed.

SELECTING A PRODUCT

Using the menu on the left of any page on Jockstrap.co, either choose a style or brand of jockstrap to browse our products. On each product page you'll be able to view detailed photos, view descriptions and purchase the item. We have a live inventory system. If we are sold out of an item, you will not be able to purchase it. If we are out of your size, you will not be able to select it.

CURRENCY SELECTION

On any product page or your shopping cart, you have the option to change between US and Canadian dollars. The price displayed indicates whether it is in US (USD) or Canadian (CAD) funds. All base prices are in American dollars and Canadian prices are based on a weekly exchange rate from XE.com.

PURCHASING A PRODUCT

After you've found products you'd like, follow these simple steps below to make your purchase:

For each product you like, navigate to it's product page.
On a product page, choose which size you would like from the drop down menu on the product page (see image on the right.) ***Please note that sizes do vary between manufacturers so please take care in choosing the correct size!***
Click on the Yellow ("ADD TO SHOPPING CART") button (this will take you to a "shopping cart" which will show your purchase(s). To continue shopping and return to the main site, click on the "continue shopping" link at the bottom left of your shopping cart.
Repeat the above until you are ready to ("check out") and pay for your items.
If you are not in the shopping cart already, click on the grey bar at the top right of the screen where it says ("checkout") or ("cart contents") or on the shopping cart page, click the "Continue to Checkout" button then follow the instructions on the following pages.


Sizing varies from brand to brand. All sizes are listed in Imperial sizes ( inches ) and can be found for each individual product in it's size selection drop down box (see diagram on the right)
Please be careful as there's no standard sizing, so one designer's small may be another's medium. To ensure you get the correct size, use a soft tape measure and wrap once around your waist (or just below if they are a low cut) to obtain your size.
If you're not familiar with Imperial (inches) sizing, here's a sizing chart to convert from Imperial (inches) to Metric (centimetres):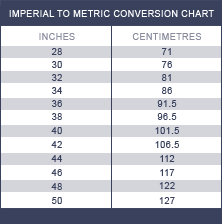 BROWSERS

Our site is fairly easy to use and should work with most recent versions of popular browsers. It has been tested on both the Apple with Fireworks and Safari browsers and on the PC with Internet Explorer, Edge, Firefox, Chrome.

The product pages of our site utilize a friendly form of popups to enable you to view larger more detailed product images. You can use your keyboard's arrow keys to scroll through each large image. Most browsers, even with popup blocking turned on should still display these windows. If your browser doesn't display these windows, then try turning off any popup blocker. Regardless of whether these windows work, the smaller photos should be large enough to get a reasonable idea of what the product is like.

JAVASCRIPT AND COOKIES

Jockstrap.co uses both javascript and cookies to enhance your shopping experience. These are standard and safe techniques used on most webpages. If either are turned off in your browser, you won't be able to shop on our site.

At this time, The Jockstrap Company currently accepts Visa and MasterCard in both American and Canadian currencies via an accredited credit card processor called Beanstream. We accept American Express, but only if you shop in Canadian dollars. We also accept PayPal. Through Paypal, you can pay via your PayPal account or via most major Credit Cards including Discover.

* Any charges on your credit card statement will appear as "Briefcase Inc".

You have the option of purchasing in either American or Canadian funds. Prices on this website are available in both U.S. and Canadian dollars. Base prices are in US dollars, with Canadian prices calculated by a weekly rate from XE.com. If you decided to purchase in a currency other than the one your Credit Card is issued, you will be charged prices calculated by your bank's exchange rate on the day the purchase goes through.

Please note we are not responsible for foreign currency charges. Although we are in Canada, we do carge in US Dollars and lately a few US banks are slipping in this foregeign transaction charge to their customers without notice. If this happens to you, try contesting it with your bank. There's no reason for it.

MONEY ORDERS / CHECKS

We will accept bank orders or money orders or checks, however goods will not be shipped until we receive payment and in the case of check, they will not be shipped out until the check has cleared. Please email us at
help@jockstrap.co
in regards to payment via money order or check.

We have recently changed our USA regular shipping method which is now not only faster but also comes with tracking.

For detailed shipping information, please see this
Shipping Page
for rates and policies.

We do not charge sales tax for orders outside of Canada. We do, however charge the required domestic taxes in Canada. G.S.T. and P.S.T. for orders within Ontario, and G.S.T or H.S.T. for the rest of Canada.

Please note, we are not responsible for any Taxes, Duties or Tariffs that may be payable to your Government upon receipt however, due to the North American Free Trade Agreement, there are no import duties on clothing to the U.S. for orders under $800

Although we're sure you're going to love your new products, if you are not completely satisfied with your purchase, we will offer you an exchange or store credit for the value of any returned merchandise. Items must be returned within 30 days of purchase, unworn and with packaging, tags and labels intact.

Due to health regulations, we can not accept returns on worn goods (unless defective).

To initiate a return, you must have a return authorization code. Please send e-mail to
help@jockstrap.co
for a return authorization. We will replace any defective item at no cost or, if you wish to cancel the order, we will issue you a refund for the purchase price of the defective product after it has been returned to us. Shipping and handling charges are not refundable. When returning product to us, we recommend that you send it via an insured carrier. We are not responsible for lost returns.

To make a return, send us:
A copy of the e-mail received from us which contains the return authorization code and our shipping address.
the defective item
A short explanation of the problem with the item.

In most cases it takes about 2-3 weeks upon our receipt of the item to process a domestic return. International orders will take up to two weeks longer.

Should you decide to cancel your order, you need to know the following: The way our system works is that credit card processing begins the moment you hit the "Submit Order" button. An in-stock product will then usually ship within 12-24 hrs. If you decide to cancel your order, we will apply a credit to your card if the product has not yet been shipped to you. Once your order has shipped, you will need to follow the steps listed above for returns.

When you order something from The Jockstrap Company, you may recieve postcards with discount codes for use at a later date. To use these codes, you can enter them on your shopping cart page - just be sure to click the Add Coupon button to register it.

Please keep in mind that discount codes will not work against already discounted items and normally can't be combined with any free or discount shipping offers.

At Jockstrap.co, we are committed to protecting your privacy. This means that we will not distribute, sell or rent your name or any personal information about you to third parties. Unless required by law or legal process to provide information about a customer.

We will also not sign you up to our newsletter email list unless you do so through our signup form or you indicate suring checkout that you want to sign up (although the mail list is the best way to ensure you know about our new products, sales, new models, galleries, contests and promotions)

All parcels arrive in either a plain brown bubble mail or polyethylene envelope using our holding company name Briefcase Inc. The Jockstrap Company does not appear on the outside of the package. And any customs papers simply list "Athletic wear" as the contents.